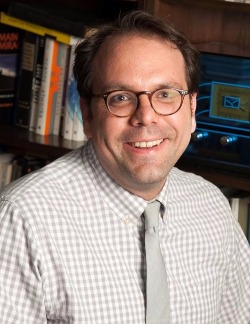 Department
Media and Communication Studies
School
School of Arts and Sciences
Biography
Alexander Russo is an Associate Professor in the Department of Media Studies at The Catholic University of America in Washington, D.C. He received his Ph.D. and M.A. in American Civilization from Brown University and his B.A. in American Studies and History from Wesleyan University. His research interests include the technology and cultural form of radio and television, sound studies, radio and television criticism, the development of "old" new media, the history of music and society, the relationship between media and space, and the history of popular culture.
Dr. Russo is the author of Points on the Dial: Golden Age Radio Beyond the Networks (Durham, NC: Duke University Press, 2010), and has published on localism and radio formatting in satellite radio, considerations of aural attention in the reception of postwar transitcasting, the idea of liveness in sound-on-disc transcriptions, and the role of race in The Green Hornet. He has forthcoming publications on communities of memory and the meaning of work in The Wire, Pappy O'Daniel and hybrid cultural forms, industrial discipline and the development of musical clocks, and on the role of BMI in postwar radio formatting. During the 2011-2012 academic year he will also be a contributor to FLOWTV.org.
Professor Russo teaches a variety classes in media and American culture. These include: Televisual Lives: Time, Space, and the Everyday, Sound Studies, Introduction to Media Studies, Media and History, Television and American Culture, and the History of Popular Culture.